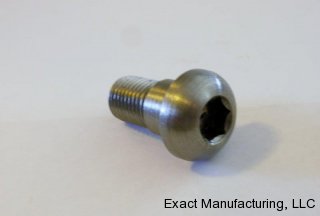 Screw Machine Business
Exact Manufacturing has been producing the highest quality turned components since 1997. Using Brown & Sharpe single spindle and Acme-Gridley multi-spindle screw machines, we can produce precision parts to your print specifications. We're able to produce parts up to 2 inches in diameter and hold tolerances of +/-.0002. We specialize in turning hole making, and threading. We have Hardinge DV-59s lathes and milling equipment to take care of secondary work that may be needed. We can handle any of your needs, from the simple couple part prototypes to longer runs of 1,000,000 pieces.
What is a screw machine?
Screw machines are high speed automatic lathes designed to produce precision parts with multiple operations executed simultaneously. Currently, all of our machines are mechanical cam driven units that can operate at produce 50-2500 parts per hour, depending upon the part. The basics of the cam driven system is the main cam will feed out the proper length of material to work on as the bar is rotating in the spindle. This will also control the use of the turret tools in front of the material. Cross slide cams will bring the tooling forward to perform any turning that needs to happen on the part. The part will then get cut off and drop into the part bin, and the cycle will start over with the stock being pushed through the spindle. Please refer to the video of the Brown and Sharpe for how it works on that. Videos of an Acme-Gridley are also available to look at.
Videos
The following videos are a brief demonstration of some of the equipment and capabilities available at Exact Manufacturing.